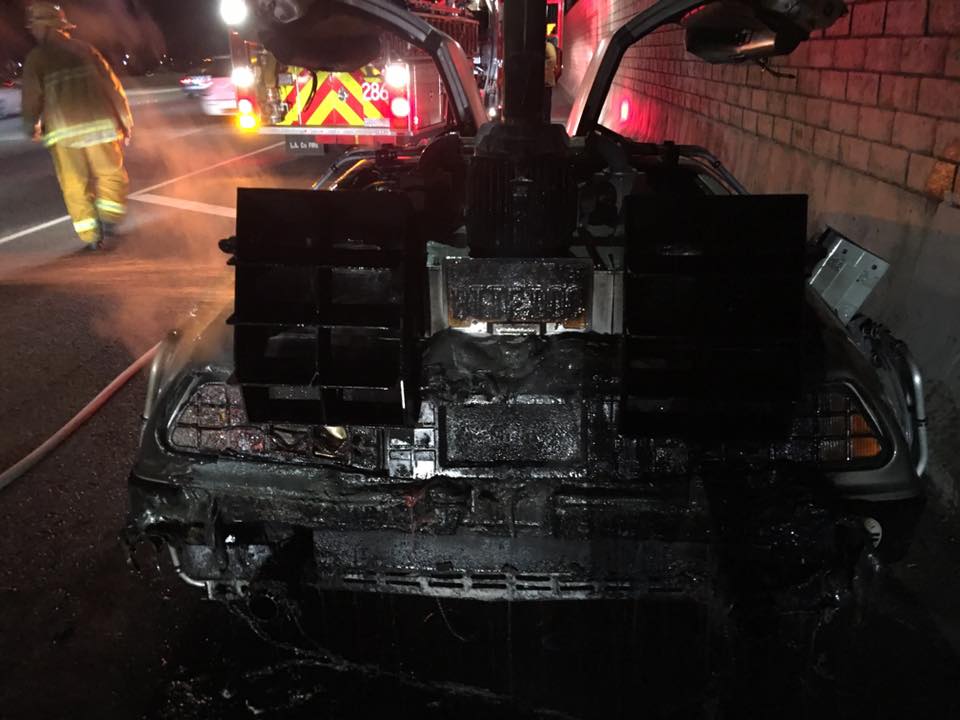 Great Scott, What happened?
It was Feb. 6th 2016 and i was on my way home from a gig in LA, heading east on the 210 Fwy when the Time Machines Flux Capacitor stopped fluxing and I had to pull over. I noticed a small fire on the back, but it only took minutes before the entire rear end was fully engulfed in fire. At that time I was waving frantically for Help from the east bound 210 motorists.
No one stopped for me and I was ready to give up,  when all of a sudden a truck pulled over and a young man with a large fire extinguisher put the blaze out. First I thought it was Marty, but that good Samaritan's name is Hayze.
He was able to save the car from a 100% loss by stopping and jumping into action intuitively. But most of all, he saved the autographs on the dashboard that could have never been replaced. He is an incredible young man with a heart of gold, and a new friend.
The interior of the car is fine, however the engine and rear end not so much as you can see in the pictures below. I just want to say "Thank You" for the tremendous amount of love from my Facebook, DeLorean, BTTF Fans, and Time Machine friends out there. My insurance will cover the repair and Danny at DMC West will head the restoration process very soon.
Many have asked how they can help and where to send parts and other donations, as well as gifts and "Thank you" notes for the good Samaritan Hayze. Please feel free to mail them to the address on the Right and I will make sure to pass anything addressed to Hayze to him (for privacy reasons we don't share his personal information).
Also follow my "Doc Nigh" Facebook Page for updates as well as this site. We'll do our best to show you the progress of the restoration and the expected resurrection day.
Thank you for your kind support,
Doc
Mailing Address
for Parts and Donations:
Paul "Doc" Nigh, Team Timecar
32295 Mission Trail
Suite R8 – PMB# 273
Lake Elsinore, CA 92530
Donations
towards the Team Timecar DeLorean Time Machine can be sent via PayPal.
Indicate in the Memo section what it is for:
Donations to Team Timecar
Thank you to Hayze