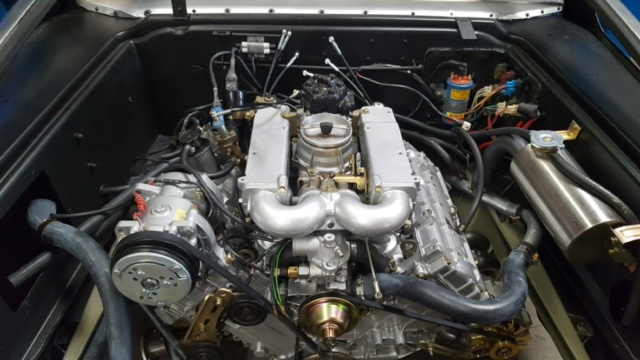 Wait a Minute…  Doc, You built a … DeLorean?
Hello Everyone and sorry for the long stretch between updates. But it was just boring stuff …. like rebuilding the entire rear end of the car. Last week Danny, over at DMC-West, started putting the motor in place.He is working very hard to have the car ready before the end of this month. We have another very import show then and need the car to be ready.
As you can see, not only is the engine a brand new Stage 2 PRV, it is not the only new thing under the hood. The fire melted so much of the rear end that the entire back had to be refinished and re-powder coated. The whole rear end looks brand new now again.
I plan to post the photos as Danny sends them but I can assure that once I have the car back the photos will go out like crazy. LOL.
A HUGE "THANK YOU" to all of my friends that have been asking me about the progress. This is still the best way to find out where we are. The job is almost done and then it's ON. We have at least 50 missed shows to make up for.
Take care for now and look for the "2016 TEAM TIMECAR TOUR" DATES AND LOCATIONS here on the website and on Facebook . You may be able to host us in your home town this year and have the DeLorean Time Machine at your home or place of business or both.
Later,
Doc
Mailing Address
for Parts and Donations:
Paul "Doc" Nigh, Team Timecar
32295 Mission Trail
Suite R8 – PMB# 273
Lake Elsinore, CA 92530
Donations
towards the Team Timecar DeLorean Time Machine can be sent via PayPal.
Indicate in the Memo section what it is for:
Donations to Team Timecar
Thank you to Hayze